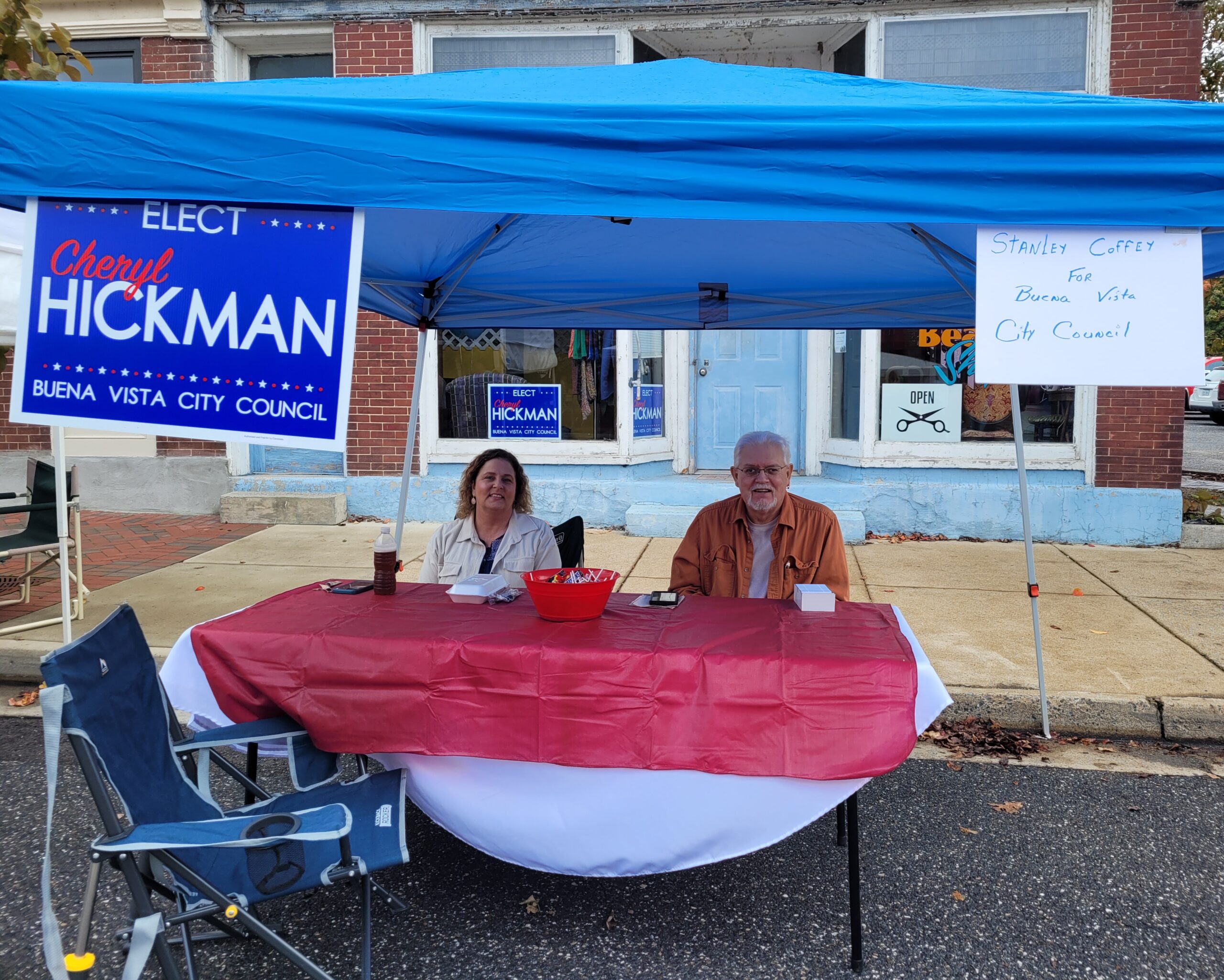 By Emma Malinak
Seven Buena Vista residents will compete for three open city council seats in the general election Nov. 7.
Buena Vista Mayor Billy Fitzgerald said the competition is a "good sign" — one that indicates citizens have new ideas to make their community a better place.
"When people want to see a change, that's when they come out in large numbers to run," he said.
According to the Virginia Department of Elections, 1,612 Buena Vista residents voted in last November's general election. Fitzgerald thinks more locals will vote this year due to the competitive race that has half of the council seats up for grabs.
John Mulligan, a Buena Vista business owner, agreed.
"The worst thing you can have is no choice. When the choices are taken away from us, we settle for the same-old, same-old," he said. "New, fresh ideas are always welcome."
Mulligan and other locals interviewed by The Rockbridge Report said that, even if they don't know the current city council members by name, they are thankful for the work the council has done in recent years to revive the downtown area.
"City council sees the value of increasing business and getting people downtown," Buena Vista resident Craig Lawhorne said. "I want to see a continuation of that support for businesses and for the things that bring people together."
While only three council seats are open now, another position will become available in January when Council Member Tyson Cooper, who is running unopposed for mayor, takes on his new role. Fitzgerald said council members will have to appoint someone to take Cooper's place and will likely favor the runner-up of this election.
Here's a look at the candidates' campaigns:
Michele Casale
The Rev. Michele Casale moved to Buena Vista from Richmond two years ago, and said her fresh perspective is what city council needs.
"I think a lot of city council members have been living here for such a long time that they overlook some things that, with new eyes, I saw right away," she said.
If elected, Casale said she will advocate for repaving old roads and bringing more businesses into downtown storefronts.
Casale, who has worked as a wedding minister for the past 24 years and has married more than 4,000 couples throughout Virginia, said building community is also at the top of her list.
Ronald Cash
Ronald Cash, a lifetime resident of Buena Vista, said he's ready to be on the ballot. He first attempted to run for city council in 2021 but dropped out after being hospitalized for COVID-19.
He said he hopes to bring industry back to Buena Vista to create more jobs and generate tax revenue. The funds could be put toward necessary infrastructure improvements, such as the renovation of the almost 40-year-old wastewater treatment plant.
Cash said he plans to retire next year after working for Dominion Energy for 35 years, which will open up more time for him to "represent the Christian, conservative viewpoint" in local politics.
Stanley Coffey
Council Member Stanley Coffey was appointed to council in 2018, won a seat in 2019 and is seeking reelection for another four-year term.
Coffey, who worked at the city's wastewater treatment plant for 16 years, said if he is reelected, he will focus on ensuring that the plant gets the upgrades it needs. He takes pride in listening to residents and plans to continue to do so.
"I'm not a politician. I'm just a hometown boy, and anybody that knows me knows that I keep my phone on, and my door's always open for them to come and talk to me," he said.
Cheryl Hickman
Vice Mayor Cheryl Hickman was first elected to city council in 2019 and is running for reelection.
The lifetime resident of Buena Vista said the city "is thriving again" with new downtown businesses, an upgraded Glen Maury Park and more. If reelected, she said she hopes to continue that momentum.
She also plans to push council to "manage money in a more efficient and responsible way" to pay for projects such as repaving damaged city streets.
Hickman is proud to help lead the city while supporting her grandchildren and three daughters.
"Family is the most important thing to me, and that's what Buena Vista has always been about," she said.
Jennifer Worley Humphrey
Jennifer Worley Humphrey said city council hasn't been addressing what she sees as Buena Vista's biggest problems, such as its underfunded school system and outdated infrastructure.
"There are people telling me that Buena Vista needs a change, and that's what I'm running on," she said. "We need more transparency and accountability for city council."
If elected, Humphrey said she will encourage council to live stream and record its meetings so that citizens can stay informed and council members' decisions can be more public.
Humphrey, who has lived in Buena Vista since she was a teenager, spends each day caring for her two horses, Nabisco and Cinnamon, and volunteering with Furever Friends, a nonprofit that finds homes for abandoned cats.
Michelle Poluikis
Although Michelle Poluikis has lived in Buena Vista for only about five years, she said it feels like her forever home because of how welcoming and kind her neighbors have been.
"It just seemed like running for city council was a way I could give back to everyone," she said.
Poluikis, who currently works as a special education assistant at Parry McCluer Middle School, said she would make sure local schools and the library get the resources they need if she is elected to council.
When not at school, Poluikis stays busy caring for her grandchildren, getting to know locals, and enjoying her favorite hobby, quilting.
Steve Webb
Council Member Steve Webb was appointed to council in 2021 and is hoping to retain his seat in this year's race.
After a career in the local fire department, police department and rescue squad, Webb said serving in local government has given him a new way to protect Buena Vista residents.
"This is my home," he said. "I don't care if there's seven people running or 27 people running — I stand on my reputation for what I've done in this community."
Webb said he has no personal agendas for his next term because "our main goal on council should be trying to be a team player."