By STEPHEN WHYNO AP Sports Writer
The Washington Commanders are denying the contents of a newspaper report about the team's sale process and demands being made by owner Dan Snyder.
The team, in a statement late Monday, said a story published hours earlier by The Washington Post is "simply untrue."
Citing anonymous sources, the Post reported that Snyder and his attorneys have demanded that NFL owners and the league indemnify him against future legal liability and costs if he sells the team and threatened to sue if not. The Post said Snyder also wants the findings of a league investigation into him kept private and that his demands angered owners and renewed discussion about possibly taking a vote to remove him.
An NFL spokesperson declined to comment Tuesday on the Post report.
Indianapolis Colts owner Jim Irsay, at a league meeting in October, said there's "merit to remove" Snyder. That would take an unprecedented vote of 24 of the other 31 team owners to happen.
Two weeks after Irsay's comments, and with multiple investigations ongoing into the team's workplace culture, finances and Snyder himself, he and wife Tanya hired a firm to "consider possible transactions." Asked at the time if the Snyders were considering selling part or all of the team, a spokesperson said, "We are exploring all options."
Several express interest in sale
The sales process has since included the likes of Amazon founder Jeff Bezos, Philadelphia 76ers and New Jersey Devils owner Josh Harris and Houston Rockets owner Tilman Fertitta getting involved to various degrees. The New York Post reported that Snyder was blocking Bezos from putting in for a bid, despite him hiring a firm to explore that possibility.
In the aftermath of The Washington Post story about Snyder seeking indemnification, ESPN on Tuesday reported that a federal grand jury has issued subpoenas related to team finances after prosecutors launched an inquiry into a $55 million loan he took out without the knowledge and approval of his then-minority owners. ESPN said the criminal inquiry is being led by a team of FBI and IRS agents.
Snyder bought out minority owners Fred Smith, Dwight Schar and Bob Rothman in spring 2021 after they sued him the previous November seeking an injunction to allow them to sell their shares of the team. That transaction was approved by league owners. NFL spokesman Brian McCarthy said in a statement sent to The Associated Press that Snyder and his previous minority owners "had a series of disputes" before going through mediation with an arbitrator and Commissioner Roger Goodell and coming away with an agreement.
"The agreement included full releases of all claims that were or could have been asserted by any party in the arbitration proceeding," McCarthy said.
Representatives for Snyder and the Commanders did not immediately respond to messages from the AP seeking comment on the ESPN report.
Legal woes continue to plague Washington Football team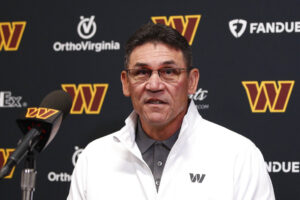 Snyder and the team are still under investigation by former U.S. Attorney Mary Jo White, who was retained by the league to look into various aspects of the organization stemming from a congressional probe into workplace misconduct that also included a referral to the Federal Trade Commission for potential business improprieties, which the Commanders denied.
The Attorney General for the District of Columbia filed two suits in civil court against the Commanders late last year: one for a scheme to cheat fans out of ticket money and another naming Snyder, Goodell and the league, saying they colluded to deceive fans about an investigation into the team's workplace culture that ended with a $10 million fine and no written report. The Commanders settled with the state of Maryland, agreeing to return security deposits to former season ticket holders and pay a $250,000 penalty.
An investigation by the U.S. House Committee on Oversight and Reform, launched in October 2021 and including testimony from Snyder, Goodell and many others, said the team fostered a toxic workplace culture. A final report by Democrats overseeing the investigation said the team had a pattern of "ignoring and downplaying sexual misconduct" and what female former employees described as hundreds of instances of sexual harassment by men at the top levels of the organization.