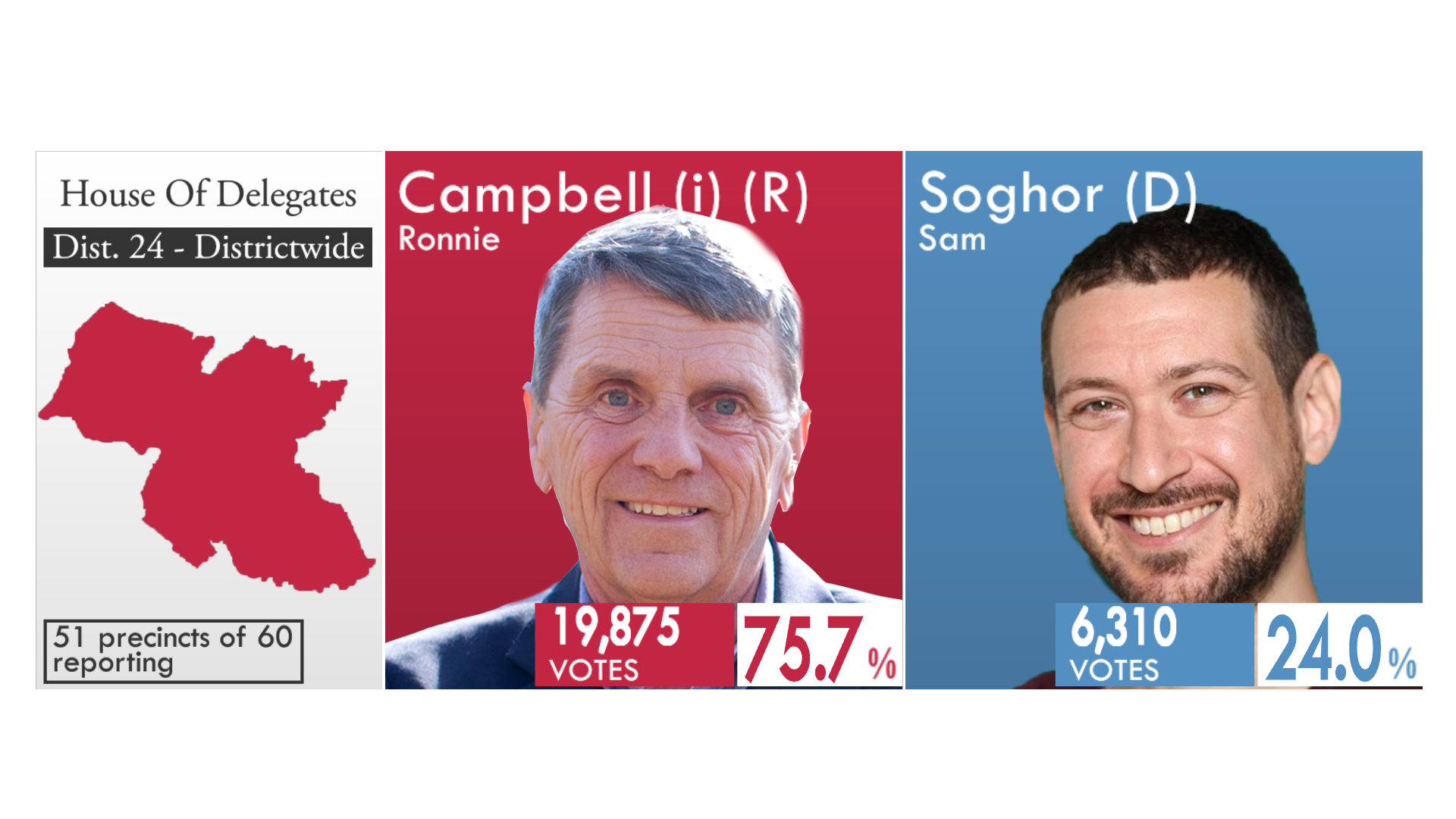 By Tori Johnsson
Republican incumbent Del. Ronnie Campbell captured the 24th District seat in the Virginia House of Delegates, according to the Associated Press. 
With 49 of 60 precincts counted, Campbell totaled 19,206 votes, or 76.7%. Democratic candidate Sam Soghor of Amherst was at 5,793 votes, or 23.1%.  
Campbell, 67, is a retired Virginia State Police trooper who has lived in Rockbridge County since 1986. He served on the Rockbridge County School Board and Rockbridge County Board of Supervisors before being elected as a delegate in a 2018 special election.  
District 24 contains Rockbridge County, Bath County, parts of Amherst and Augusta counties and the cities of Lexington and Buena Vista. 
Campbell won Amherst County and Bath County with about 80% of the vote. He took Augusta County with about 85%. In Buena Vista, Campbell claimed 75%, and in Rockbridge County 78%. He was only upset in Lexington, claiming 37% of votes to Soghor's 63%. 
This year, all 100 of Virginia's House of Delegates seats were up for grabs. Coming into the election, the Democrats had 55 seats to the Republicans' 45.  
Campbell won the Republican primary in June against Mark Reed of Lexington with 2,119 votes, or 89% of the vote.  
Campbell was first elected in a 2018 special election, defeating Democratic candidate Christian Worth. In 2019, he bested Worth again with 15,653 votes, or 66%, despite raising $87,933 in campaign contributions to Worth's $167,114, according to the Virginia Public Access Project. 
Campbell campaigned to lower taxes, maintain gun rights protections, reduce abortion access and improve Interstate 81. This year, Campbell regained the funding advantage, raising $108,088. Soghor raised $9,572. 
In January 2021, Campbell was one of three Virginia delegates who wrote to Vice President Mike Pence to ask him to "nullify" Virginia's electoral votes that went to Biden, according to the Virginia Mercury. 
Soghor moved to Amherst from New York about two years ago. His campaign prioritized education, broadband access for rural residents of the district, accessible health care and taking financial advantage of Virginia's newly legalized cannabis industry.