By Emma Derr 
Harrington Waddell Elementary School has plans to hire a new principal this June, and the school's staff is hoping it can find someone who'll stick around.  
"I think–first and foremost–it is important that the next principal will be here in the long term," fourth-grade teacher Margaret Swisher said. 
The Lexington public school has had four principals in the last four years, including interim principals.  
Lisa Clark left in August of 2014 after serving as principal for 14 years, and she is now vice mayor of Buena Vista and principal of the city's F.W. Kling Jr. Elementary School. Lexington Superintendent Scott Jefferies and former Superintendent Dan Lyons filled in as interim principals until January of 2015.  
The most recent principal, Timothy Martino, held the position for just over two years. He left Waddell last June to work as the director of elementary education for Rockbridge County Public Schools.  
"Principal Martino left after school started, so it was hard to find someone after the academic school year started," Waddell parent Kristy Speers said. "I think it's surprising that he didn't stay long. Everyone at Waddell was shocked."  
This was not always the case. Before Martino, Waddell had only two principals in a span of 20 years. 
And the problem goes beyond city limits. Turnover in school administrative jobs is becoming a national problem.  
Fifty percent of new principals quit during their third year, according to a 2014 report by the School Leaders Network, an educational nonprofit headquartered in Massachusetts that researches turnover among school administrators. The report labeled this effect as "the churn" and found that turnover among principals has negative effects on school performance and culture.  
But Waddell parents, teachers and staff are staying positive.  
"I love Waddell and the communities we have built in the school," Swisher said.  
Rebecca Walters, the director of instructional services for Lexington public schools, has served as interim principal since June. She's juggled both roles with help from Jefferies. 
 Swisher said Jefferies greets the students in the morning, and Walters comes in midday to take over.  
"It's been a balancing act trying to keep up with wearing different hats," Walters said.  
Swisher said Walters and Jefferies have made the transition look easy because they are familiar with the challenges of the school system and its students.  
"We have a wide variety of student needs and a growing diversity in our student population with students struggling academically and socially," Swisher said.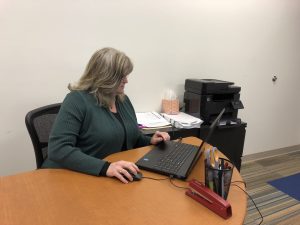 Walters agrees. She said Waddell deserves a principal who will work to be a part of its community.  
"We want someone who will tie in well with the teachers and students and buy into the shared ownership that we have here at Waddell," Walters said.  
The position listing posted by Waddell in late November said the "ideal candidate" would have at least three years of administrative experience. The post said the salary ranges from $65,000 to $75,000, depending on experience.  
Walters is on the position's search committee along with Jefferies, several teachers and the school's guidance counselor.  
 Walters said the committee has started to screen four or five applicants. It will decide in late February which candidates it will interview.  
The committee's goal is to find someone to recommend to the school board by March or April to stay on pace for a June 1 start date.  
"I think a principal sets a tone for the school community and what the values of that school are," Swisher said. "They set the expectations for students and staff, as well as guide where we go in the future and what our priorities are."